Services
*below are just a few of the services we provide...


Emission Inspections & Repairs - We are a State of Georgia certified emission inspection and repair center. For detailed information concerning the Georgia Clean Air Force click here.
*We are equipped to test all makes and models.

Brake Service - Repair includes replacing pads/shoes, turning rotors/drums (in house), packing bearings where applicable, and bleed brakes. Test drive vehicle. * FREE tire rotation and balance with any brake service.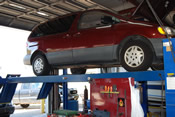 Tune Ups - Remove and replace spark plugs & spark plug wires
(when needed), check ignition and timing. Check fuel filter and air filter, replace if necessary. Scope engine. Note: proper maintenance of the ignition system is vital to keep parts from failing prematurely and to maintain peek fuel economy.

Exhaust Service - Full range of exhaust service options, from original factory mufflers and exhaust systems to high performance mufflers and exhaust systems.
Trans Tech Transmission Service - Removes 99% of old transmission fluid and replaces it with new fluid along with a filter kit.

Oil Change - Remove filter & drain oil, replace with new oil filter & oil, check all fluid levels. Check all belts, hoses, and tire pressure. Put reminder sticker on vehicle for next oil change. Note: to maintain a healthy engine, engine oil should be changed every (3) months or 3,000 miles.

MotorVac Fuel Injection Cleaning - Clean engines run better, have your engine cleaned from the inside out. The MotorVac system connects to your car's engine and circulates a mixture of MotorVac solution and fuel through all fuel system components. This cleaning solution removes carbon, gum and varnish from your engine - from intake to exhaust.

Engine Installations - We install a wide variety of ENGINE types. We offer JASPER ENGINES that carry a 36 month, 75,000 mile warranty. We can also order "Crate" engines from the
factory. Call or come by for an engine quote. We have a fast turn around on installation time.

Air Conditioning Service - Complete A/C work available. 134A freon. Recovery system is available to recover your existing freon. Compressors, accumulators, orifice tubes, belts.

Alternators - Check amp and voltage reading. Replace unit if necessary.

Batteries - Check cold cranking ampage and check voltage readings. Clean terminal ends. Replace terminal ends or battery, if needed.

Maintenance Services - Recommended vehicle service maintenance based on your vehicle requirements. Please call or come by for your particular vehicle preventative maintenance needs or any of your auto repair needs.

Timing Belts - Most vehicles are recommended to replace at 60,000 - 80,000 miles. Please check with your vehicle maintenance manual for details on when to replace.